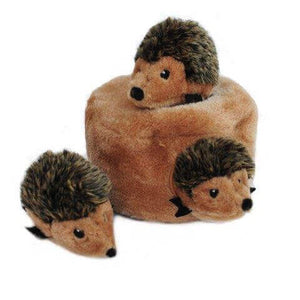 ZippyPaws Hedgehog Den Burrow Dog Toy
Does your small to medium pup like to scratch and burrow? ZippyPaws Burrow toys are containers made from plush material. The burrows are designed to challenge your dog to find a way to remove the smaller squeaky toys. Think treat dispenser, but instead of food, the rewards are toys! 
Interactive, plush hide-and-seek dog toy
Helps to keep pets occupied and to eliminate boredom
Holes are smaller than toys, making removal a fun challenge
Squeak soft toys to entice your dog to play and find the small toys inside the burrow

Unique whimsical puzzle toys made with ZippyPaws well-know quality standard



Which Zippy Burrow is your favourite?
The ZippyPaws Hedgehog Den Burrow is a great way to keep your dog busy and entertained! Hide the squeaky hedgehogs inside the openings in the burrow and watch your dog search, stalk, scratch and find the small hedgehogs.
1 Hedgehog Den (10 x 15.5 x 15.5cm) and 3 squeaky hedgehogs
_ _ _
Burrows are not chew toys and should be removed immediately should your dog start to chomp down on them. Like any dog toy this one should be played under parent supervision.