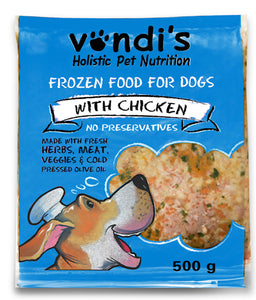 VONDI'S Holistic Pet Nutrition, Natural Chicken Dog Food - Frozen 500g
A registered nutritional pet food that is natural, wholesome and free of preservatives.
Real food, real meat, real vegetables, olive oil.
Cooking process is scientific. Grains are cooked slowly and for a long period and never together with the meat. Vegetables and herbs are blended raw and fresh. 
How to Feed Vondi's Food
Simply defrost over night or during the day, or place packet in hot water. Can heat slightly in microwave to take the chill off.
Size: 500g Pack - Frozen 
Important: To change from your dog's current food to their new food do it over 7 days, gradually decrease the amount of the current dog food while increasing the amount of new dog food.
Feeding Guidelines for Adult Dogs: 
Small dog – Dachshund, Yorky, Poodle, etc: Half packet PER DAY
Small medium – Spaniel, Jack Russel, Fox Terrier, Scotty, etc:  ¾ packet PER DAY
Medium – Staffie, Bull Dog, etc: 1- 1.5 packets PER DAY
Large Medium – Labrador, Dalmatian, Boxer, Collie, etc: 1.5 – 2 packets
Large – Alsatian, Golden Retriever, Bull Mastief, etc:  2 – 2.5 packets