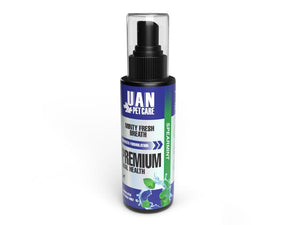 UAN Premium Oral Health Minty Fresh Breath 100ml
A fresh breath solution to your dog's bad breath and oral health. Contains 100% organic spear-mint extract that freshens bad breath & whitens teeth, while antibacterial agents eliminate the bacteria that cause bad breath and infections. It's easy to use and safe for pets.

Formulated for Dogs ONLY.
Directions for use:
Shake well before use! Gently open dog's mouth to reveal teeth & gums. Spray directly onto teeth, gums & tongue. Don't rinse.
For use in drinking water, pour 30ml to 1L drinking water.
Ingredients:
Aqua, Mentha Spicata (spearmint), Glycerin, Sodium Benzoate, green tea, Sodium Chlorate.
Does not contain:
Silicones, Alcohol, Parabens, PEG's, Colourants, Sulphates.