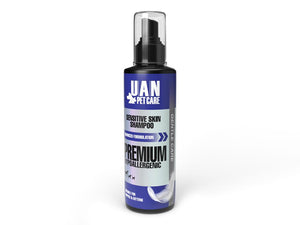 UAN Hypoallergenic Shampoo for Sensitive Skin 250ml
Suitable for Puppies and Kittens
Hypoallergenic Pet Shampoo is specifically formulated for sensitive skin -  dogs, cats, puppies and kittens. Provides a perfect balance of superior cleansing action with gentle care.  Has a great foaming ability and is perfect for long or short fur. Contains organic Coconut oil that nourishes and moisturises.  Suitable for cats, dogs and horses.
Directions for use:
Wet coat with warm water.  Apply shampoo and massage into a lather.  Rinse well with water and ensure that you dry your dog fully.
Should the shampoo come into contact with your pet's eyes, rinse with warm water.
Ingredients:
Aqua, Sodium C1 4-16 alpha olefin sulfonate, Coconut diethanolamide, cocamidopropyl beaine, Organic Coconut Oil, Phenoxyethanol.
Does NOT contain:
Silicones, Alcohol, Parabens, PEG's, Colourants