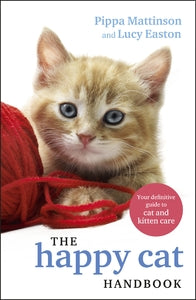 The Happy Cat Handbook
Paperback | 208 pages
By Pippa Mattinson, By Lucy Easton
DESCRIPTION

Whether you are thinking of getting a kitten, already have a cat, or are considering adopting a cat this is the book for you!

The chapters cover: breeds and types, advice on rescuing versus buying, feeding, training, sleeping and play, keeping your cat healthy, grooming, the pros and cons of indoors and outdoors cats, caring for senior cats, dealing with destructive behaviour and aggression, how to integrate a second cat and troubleshooting tips for all-round happiness.
With adorable photos throughout, this wonderfully informative book deserves a place in every cat owner's home.
Product details
Dimensions 152 x 230 x 15mm | 484g
Publication date 25 Apr 2019
Publisher Ebury Publishing 
Imprint Ebury Press
Publication City/Country London, United Kingdom
Language English
ISBN10 1785039326
ISBN13 9781785039324