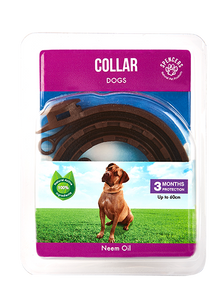 Spencers Dog Collar
This natural, premium quality collar is specially formulated for dogs. It is non-toxic, has no side effects and provides a natural way of repelling ticks, fleas, mosquitoes, mites and lice. It is robust and is made from high grade rubber which is impregnated with the essential oil of Neem which is extracted through top quality processes. The Neem oil has many properties including the repelling of insects and improving of general skin health and is absorbed by the skin and hair of the pet.
Features:

100% Natural.
Repels ticks, fleas, mites, mosquitoes and lice
Relieves dry, itchy, red and irritated skin and improves general skin health.
Ergonomic buckle which means the collar comes loose if caught to prevent choking.
Lasts up to 90 days.
Ingredients:

NEEM oil comes from a tree in India and has been used for centuries for a variety of ailments. Neem is well known to repel insects, as it interrupts the life cycle of ticks, fleas, mites, mosquitoes and flies. 
Instructions:

Unwind the collar, pull the tab down and cut off the excess portion
Can be used on pregnant females and puppies from the age of 1 month
Store in a cool, dark place. About:
Spencers natural, premium products are made in laboratories by veterinarians under ISO standards. The exclusive formulas and best prime materials guarantee the stability, effectiveness and shelf-life of the products.
Spencers Natural Dog Collar was developed by veterinarians in a laboratory and is used worldwide.