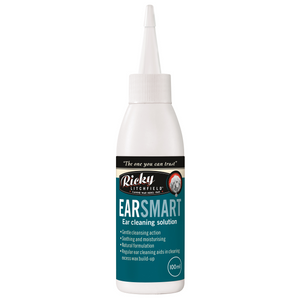 Ricky Litchfield EarSmart 100ml
A maintenance and preventative ear cleaning solution with the benefits of Buchu.

Gentle cleansing action
Aids in clearing excess wax build-up
Discourages bacteria/fungi/years growth
Controls irritation 
Relieves itching
Moisturises the ear canal
Natural and effective 
Apply Ear Smart to the ear by inserting the tip of the bottle into the opening of the ear and squeezing the bottle gently to release a liberal amount of liquid into the ear. Gently massage the base of the ears to assist breakup of debris. Wipe the interior ear flap and accessible parts with cotton wool to remove excess liquid, wax and debris.
Ingredients:  aqua, propylene glycol, polysorbate 20
caprylic / capric triglycerides, phenoxyethanol, hydroxyethyl acrylate/sodium, acryloyldimethyl taurate copolymer, isohexadecane, C14-22 alcohols, C12-20 alkyl glucoside, Agathosma betulina (Buchu) leaf oil, polysorbate 60 , citric acid, ethylhexylglycerin.
Keep out of reach of children