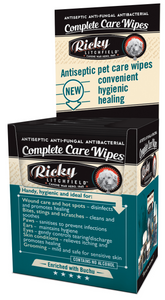 Ricky Litchfield Complete Care Wipes  (10 wipes in a box)
Individually wrapped antibacterial wipes for skin care and grooming

Wound care and hot spots – disinfects the wound and promotes healing
Bites, stings and scratches – cleans and soothes
Paws – sanitises to prevent infections
Ears – maintains hygiene 
Eyes – gently controls tearing and discharge
Skin conditions – relieves itching and promotes healing
Grooming – mild and safe for sensitive skin. Use as required for grooming and wound care.
Ingredients:  De-ionized water, Glycerin, Polysorbate 20, Buchu oil, Polyglyceryl-3, Caprylate/Caprate/ Succinate, Propylene Glycol, Phenoxyethanol, Ethylhexylglycerin.
Keep out of reach of children