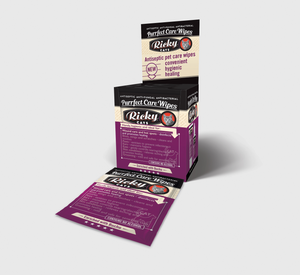 Ricky Cats Purrfect Care Wipes 
Handy, hygienic individually wrapped for head-to-tail grooming
Ideal for:

Bites, stings and scratches -cleans and soothes
Paws - sanatising
Ears - maintains hygiene
Eyes - gently cleans discharge/tearing
Skin conditions - soothes and protects
Enriched with Buchu. Use daily for head-to-tail grooming.
Ingredients: De-ionized water, Glycerin, Polysorbate 20, Buchu oil, Polyglyceryl-3, Caprylate/Caprate/ Succinate, Propylene Glycol, Phenoxyethanol, Ethylhexylglycerin.
Keep out of reach of children.