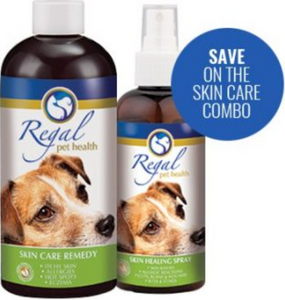 REGAL COMBO-SKIN CARE REMEDY (BEEF) 200ML + SKIN HEALING SPRAY 200ML Combo Pack
 The Regal Skin Care Combo :
Regal Combo-Skin Care Remedy (beef) and Regal Skin Healing Spray have been proven to work so well together that we've decided to create a combo pack of them at a discounted price!  Together this combo pack will offer your dog an internal and external approach to treating the skin condition he or she is suffering from.
Solution for itchy, irritated and inflamed skin.
A herbal and natural range of products for dogs and cats