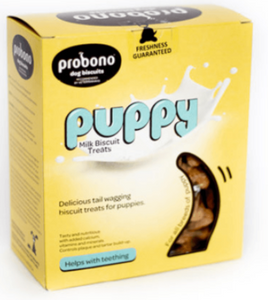 Probono Puppy Milk Dog Biscuits All Size Dogs 650g
Description:

No artificial colourants or flavourants
No preservatives *For all breeds of puppies
Carefully formulated using top quality ingredients and baked to achieve a crunchy texture to help with teething and keep teeth clean and healthy as they chew.
Contains milk and milk derivatives – min 4%.
With added ingredients to prevent plaque and tartar build up.
Contains a blend of vitamins A, E and B Group Vitamins, Magnesium, Zinc and Iron to help boost the immune system.
Ingredients: Wheat flour, meat & animal derivatives, milk & milk derivatives (min 4%), plant fats, vitamins & minerals, teeth cleaning agent and approved antioxidants.