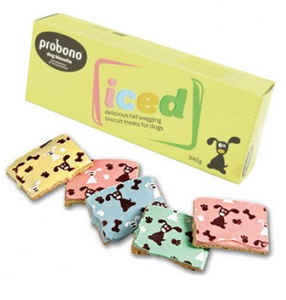 Probono Iced Biscuits All Size Dogs 340g
Description:

No artificial colourants or flavourants
No preservatives *Has a coating which looks and tastes as good as chocolate, but does not contain any ingredients which are harmful to dogs.
Contains no Theobromine
Ingredients: Wheat and whole wheat flour, beef meat and bone meal, bran, plant fats, non-lauric, non-sucrose coating, vitamins & minerals, flavourants & antioxidants.
Contains a blend of vitamins A, E and B group vitamins as well as magnesium, zinc and iron.