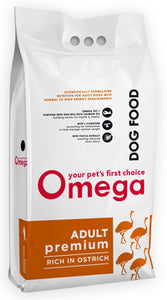 Omega Pet Foods Adult Premium Rich in OSTRICH 8kg & 20kg
Omega Adult Premium Rich in Ostrich dog food is carefully formulated 
active adult dogs that require increased levels of energy, protein and fat in their diets. Four protein sources (ostrich, chicken, gluten and fish meal) are included to achieve the optimum amino acid balance. This high quality dog food provides optimum nutrition for working dogs, show dogs, breeding dogs, finicky eaters as well as dogs recovering from illness.
With L-Carnitine promoting fat metabolism to help manage optimal weight
Omega Oil + Fortified with Salmon Oil for health and vitality
With Yucca Extrat assisting reduced stool odour 
Worth Noting: 
Omega Pet Foods bring together the best of 4 factors: 
OMEGA CONTAINS OMEGA OIL+®: A special blend of animal, fish and plant oils, in the optimum omega-6: omega-3 proportion. Supplementary salmon and flaxseed oils supply EPA and DHA, the important Omega-3 fatty acids.
OMEGA PRODUCTS ARE LOW ALLERGENIC: Ostrich, chicken and lamb are used as the main sources of protein with no beef (or beef fat), artificial colourants or flavourants included. Beef and beef by-products have proved to be the protein most commonly associated with dietary related allergies in pets.
SUPERIOR RAW INGREDIENTS: Only meat (ostrich, chicken and lamb) derived from healthy animals and processed at export registered abattoirs is used in the production of Omega. The meat is growth hormone and antibiotic stimulant free.
FORMULATED BY EXPERTS: Omega was formulated by veterinarians and companion animal nutritionists at the Feed Technology Group in Stellenbosch, incorporating the latest scientific-based knowledge on pet nutrition. The food is manufactured according to a fixed formulation, making it possible to list (in order of dry mass inclusion) detailed raw ingredients on the packaging.
Available in 8kg and 20kg bag
Omega Pet Food has been produced by a Proudly South African company since 1999.
Ingredients: 
Ostrich (min 21%), Yellow maize*, rice, wheat bran, fat and oil blend (poultry, soybean, canola, ostrich, fish and linseed oils, soybean lecithin), chicken, sorghum, maize gluten, chicken digest, fish meal, salmon oil powder, L-Carnitine, yucca extract, essential minerals & vitamins, approved anti-oxidants.
* May contain genetically modified ingredients.
Crude Protein, not less than 
240 g/kg
Crude Fat, not less than 13
0 g/kg
Moisture, not more than 1
00 g/kg
Crude Fibre, not more than 45 
g/kg
Ash, not more than 9
5 g/kg
Calcium, not less than 
15 g/kg
Phosphorous, not less than 
9 g/kg
L-Carnitine, not less than 250 mg/kg
Linoleic Acid, not less than 10
g/kg
DHA* and EPA** not less than 250
0 mg/kg
*Docasahexaenoic Acid (DHA)  | **Eicosapentaenoic Acid (EPA)
Quality and Food Safety:
Manufactured in a HACCP certified facility.
Manufactured in a FSSC 22000 certified facility.
Manufactured in a Veterinary Approved Establishment for Pet Food (Registration number: ZA14/3).