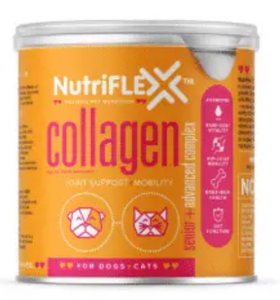 Nutriflex Advanced Mobility Complex
NutriFlex Collagen Advanced is your pets daily scoop of happiness —
An all-natural, nutrient-dense, protein-rich (86% protein by volume) "bone broth" powder for dogs and cats. Our advanced daily complex is enriched with MSM (organic sulphur), vitamin C and joint-specific type II collagen — a naturally derived and synergistic source of essential amino acids, chondroitin, glucosamine and hyaluronic acid to promote strong bones, joint lubrication and muscle strength. NutriFlex enhances vitality, mobility and agility by helping to ease discomfort from stiffness and promote recovery following injury or surgery. A daily serving of NutriFlex can help your pet enjoy an active, happier and healthier life.

NutriFlex™ is formulated with a unique Type II collagen backed by clinical trials:
(50% of all joint cartilage is constituted by type II collagen fibres)


Improved mobility and reduced consumption of NSAID's (Non-Steroidal Anti-Inflammatory Drugs) by 73%
Continuous use (daily consumption) reduces joint inflammation and improves mobility
3X more bioavailable than native cartilage, reaching the joints through the circulation
Natural source of Chondroitin and Hyaluronic Acid contributes to the permanent renewal of proteoglycans, a major biochemical component of joints
Extracted from chicken cartilage. Produced in France in FSSC2000 certified facility.
NutriFlex™ is formulated with 100% eco-friendly, human-grade food ingredients.

Registration No. V31175 Act36/1947
Department of Agriculture, Forestry and Fisheries (South Africa). DOGS+CATS

Dosage:
SMALL BREED
Pet Weight 5kg-10kg
½ Scoop (= 2.5g)

DOGS

MEDIUM BREED
Pet Weight 11kg — 20kg
1 Scoop (= 5g)

LARGE BREED
Pet Weight 21kg — 45kg
1½ Scoops (= 7.5g)

GIANT BREED
Pet Weight 45kg+
2 Scoops (= 10g)