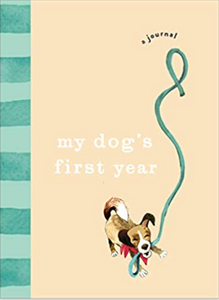 My Dog's First Year: A Journal 
By (author)  Ebury Press
DESCRIPTION
Capture and treasure early moments with your new dog forever.

'The journey of life is sweeter when travelled with a dog'

From the first magical walk in the park together, to your pooch's hilarious misadventures and mishaps, this book offers you prompts and cues to record that first wonderful year together, whether you have just welcomed a new puppy into your home or adopted an older dog.

This journal also provides info on how to prepare for their arrival, as well as handy tips for training and fun activities you and your dog can do together to build trust. In words and pictures, you can document how your dog settles in, how they respond to the dreaded B-A-T-H, their favourite food and treats, the journeys you take together and their birthday, among many other precious memories that you won't want to forget. Something you can cherish forever, My Dog's First Year is an invaluable record of your early days with your new best friend.
Product details
Format Hardback | 128 pages
Dimensions 156 x 216 x 14mm | 375g
Publication date 01 Oct 2019
Publisher Ebury Publishing
Imprint Pop Press
Publication City/Country London, United Kingdom
Language English
ISBN10 1785038613
ISBN13 9781785038617