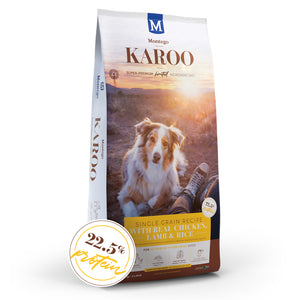 Montego KAROO Senior Dry Dog Food
As dogs age, their activity levels slow down. Similarly, overweight dogs require a lower fat-to-protein ratio diet to assist with weight management. Appropriate nutrition plays a vital role in maintaining longevity and quality of life.  A super-premium limited ingredient diet for Senior or Overweight dogs.  Complete and Balanced. 
Benefits: 
Chicken - Joint Mobility Protein:   A natural source of glucosamine and chondroitin that helps maintain joint mobility and strength, reducing deterioration while providing energy. 
Lamb - Adds deliciious flavour and texture, while providing essential amino acids, crucial to maintaining and supporting the strength and health of ageing muscles. 
Low Carbohydrate Formulation Using Only Rice: A high-quality single grain, easily digestible carbonhydrate provides all day energy.
Nourishing Fish Oils: Omega -3 fatty acids from fish oils are essential to the maintenance of clear vision and brain function as well as immune system health, joint health, skin health and a shiny coat.  
Omega-6 from Animal Fats and Vegetable Oils: Fatty acids from chicken fat (Omega 6) help nourish your dog's ageing skin, while encapsulated fatty acids are essential for reducing stool odour. 
Prebiotics: Inulin and Beet Pulp: A fibre-rich source of fructo-oligosaccharides stimulates the growth of beneficial bacteria in the digestive system.
Dried Algae Schizochytrium sp.: A rich source of DHA that supports healthy ageing by improving cognitive ability, promoting mental alertness in mature dogs (+5 yrs). 
L-Carnitine: Aids in the conversion of fat into energy and lean muscle mass, optimisng and maintaining a healthy metabolism in senior or overweight dogs. 
Ingredients:
Rice, chicken meal, lamb meal, chicken fat, beet pulp, brewer's yeast, whole egg powder, inulin, hydrolysed chicken, fish oil, potassium chloride, salt, essential minerals & vitamins, dried algae - Schizochytrium sp., sodium bisulphate, encapsulated fatty acids, L-Carnitine.
Typical Analysis: 
Crude protein 22.5% Moisture 12% Total Fat 10% Crude fibre 3.5% Crude Ash 7% Calcium 1.2% Phosphorus 0.7% Omega-6 fatty acids 1.75% Omega-3 fatty acids 0.5% EPA/DHA 0.4% Glycaemic Carbonhdrates 38%  Taurine 500 mg/kg, Glucosamine 640 mg/kg Chondroitin 330 mg/kg Metabolisable energy 350 kcal/100g

Daily Feeding Guide:
When switching a senior dog to Karoo Senior please do so gradually by decreasing your existing brand and increasing the amount of Karoo Senior.   Important:  The larger the breed, the earlier you should switch to a senior diet.   Ensure fresh water is always available for your dog.  
| Current Weight (kg) | Senior | Weight Loss | Weight Control |
| --- | --- | --- | --- |
| 1 - 5 kg | 30 - 90 g | 25 - 80 g | 35 - 105g |
| 5 - 10 kg | 90 - 150 g | 80 - 135 g | 105 - 175 g |
| 10 - 20 kg | 150 - 225 g | 135 - 225 g | 175 - 295 g |
| 20 - 30 kg | 225 - 345 g | 225 - 300g | 295 - 400 g |
| 30 - 40 kg | 345 - 425 g | 300 - 385 g | 400 - 500  g |
| 40 - 50 kg | 425 - 500 g | 385 - 450 g | 500 - 585 g |
| 50 - 60 kg | 500 - 650 g | 450 - 580 g | 585 - 755 g |
| 60 - 70 kg | 650 - 685 g | 580 - 610 g | 755 - 790 g |
| 70 - 80 kg | 685 - 720 g | 610 - 645 g | 790 - 875 g |
| 80 kg+ | 720 g+ | 645 g+ | 835 g+ |