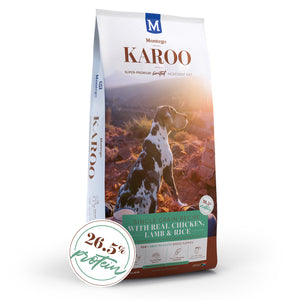 Montego KAROO Puppy Dry Food - Large to Giant Breed Puppy 
Puppies grow at different rates. While smaller breeds can reach adulthood in as little as 9 months, giant breeds may continue to grow for up to 2 years. To get the most out of their diet, puppies must eat today for the dogs they will be tomorrow!  Single grain recipe with real chicken, lamb and rice. Super-premium Limited Ingredient Diet. 
Complete and balanced.  Recommended by Vets
Benefits:
Low Carbohydrate Formulation using only rice: Single grain, high quality, highly digestible carbohydrate provides all day energy for your puppy. 
Chicken: Joint-Mobility Protein: Natural source of Glucosamine and Chondroitin essential for the development and mainenance of rapidly growing joints and cartilage of your large or giant breed puppies. 
Lamb: Muscle-Maintenance protein:  Adds delicious flavour and texture, while providing essential amino acids, crucial to the development of fast developing strong healthy muscles.
Omega-6 from animal fats and vegetables oils:  Omega-6 fatty acids from chicken fat help nourish your puppy's skin, while encapsulated fatty acids are essential for reducing stool odour.
Prebiotics: Inulin and Beet Pulp: This fibre rich source of fructo-oligosaccharides stimulates the growth of beneficial bacteria in immature digestive systems, while also improving stool quality.
Protective Coating - Kaolin:  This provides a protective coating to the epithelial of the gastrointestinal tract, aiding optimal nutrient absorption.
Nourishing Fish Oils: Salmon Oil power and Omega 3 fatty acids from Fish Oil are essential to cognitive development, immune system health, joint health as well as the shine and condition of your pups coat and skin. 
Vision and Brain Support from DHA: DHA found naturally in mother's milk is a key element in the healthy develpment of the brain, vision and central nervous system.
Ingredients:
Rice, chicken meal, chicken fat, beet pulp, whole egg powder, brewer's yeast, lamb liver, inulin, milk powder (lactose-reduced), hydrolysed chicken, kaolin, fish oil, lamb meal, salmon oil powder, potassium chloride, salt, essential minerals & vitamins, sodium bisulphate, encapsulated fatty acids.
Typical Analysis: 
Crude protein - 26.5% Moisture - 12% Total Fat - 12.5% Crude fibre - 3% Crude Ash - 7% Calcium - 1.3% Phosphorus - 0,9% Omega-6 fatty acids - 2% Omega-3 fatty acids - 1% DHA - 0.25% Glycaemic carbonhdrates - 34% Taurine - 700mg/kg Glucosamine - 640 mg/kg, Chondroitin 300mg/kg Metabolisable energy - 365 kcal/100g
Puppies up to 6 months of age should be fed three small meals a day and according to their adult weight. Thereafter, twice daily until adulthood.  Important: When switching your puppy to Karoo Puppy, do so gradually, by decreasing your existing brand and increasing the amount of Karoo Puppy Food.  Please ensure fresh water is always available.
Daily Feeding Guide: 
| Adult Weight (kg) | 2 Months (g/day) | 4 Months (g/day) | 6 Months (g/day) | 9 - 12 Months (g/day) | 15 - 18 Months (g/day) | 18 - 21 Months (g/day) |
| --- | --- | --- | --- | --- | --- | --- |
| 30 - 40 | 315 - 390 | 455 - 565 | 480 - 595 | 470 - 585 | Adult - 575 | Adult |
| 40 - 50 | 390 - 400 | 565 - 620 | 595 - 700 | 585 - 690 | 575 - 670 | Adult - 660 |
| 50 - 60 | 400 - 430 | 620 - 715 | 700 - 800 | 690 - 790 | 670 - 775 | 660 - 760 |
| 60 - 70 | 430 - 480 | 715 - 800 | 800 - 900 | 790 - 890 | 775 - 870 | 760 - 850 |
| 70 - 80 | 480 - 535 | 800 - 885 | 900 - 1000 | 890 - 990 | 870 - 960 | 850 - 945 |
| 80 + | 535 + | 855 + | 1000 + | 990 + | 960 + | 945 + |
Highly Active, Pregnant or Lactating Adult Dogs and Bitches
| Adult Weight | Grams/Day |
| --- | --- |
| 30 - 40 kg | 510 - 635 |
| 40 - 50 kg | 635 - 750 |
| 50 - 60 kg | 750 - 965 |
| 60 - 70 kg | 965 - 1015 |
| 70 - 80 kg | 1015 - 1065 |
| 80 kg + | 1065 + |