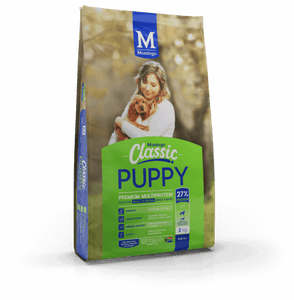 Montego CLASSIC Small to Medium Breed Puppy Dry Food 
Puppies grow at different rates. While smaller breeds can reach adulthood in as little as 9 months, giant breeds may continue to grow for up to 2 years. To get the most out of their diet, puppies must eat today for the dogs they will be tomorrow! 
Classic Small to Medium Breed Puppy's premium formulation is tailored to provide small to medium breed puppies with everything they need to get a great start to a long and healthy life.
Growth: 27% Protein / 12% Fat  This high protein meal with essential amino acids and fatty acids, combined with proper exercise, helps your puppy build strong muscles so they can reach and maintain a healthy weight. 
Immune Support: Natural Antioxidants, such as Vitamin C and E, help support overall cellular health and assist in developing a healthy immune system.
Conditioning: Essential Vitamins, Minerals and Fatty Acids
Alertness: High levels of Omega-3 polyunsaturated fats (such as DHA) from salmon oil support, healthy cardiac function and vision.
Agility: Glucosamine is a natural joint and cartilage growth enhancer wich supports healthy joint growth for increased flexibility and agility
Digestion: Natural prebiotics, sourced from wheat bran, help to promote digestive health - feeding the healthy bacteria in your puppy's developing digestive system. 
Free from Artificial Colours, Soya and Flavours
Ingredients:
Corn*, chicken meal (natural sources of Taurine, Glucosamine and Chondroitin), wheat bran (source of insoluble fibres), rice, corn gluten, animal fat, pork meal (natural sources of Taurine, Glucosamine and Chondroitin), vegetable oils, salmon oil, salt, minerals and vitamins * May contain GMOs 
Typical Analysis: 
Crude protein - 27% Moisture - 12% Total Fat - 12% Crude fibre - 2.3% Crude Ash - 7,5% Calcium - 1,3% Phosphorus - 0,9% Omega-6 fatty acids - 2% Omega-3 fatty acids - 0.35% DHA - 0.1% Glycaemic carbonhdrates - 33% Taurine - 500 mg/kg Glucosamine - 125 mg/kg Metabolisable energy - 365 kcal/100g
Puppies up to 6 months of age should be fed three small meals a day. You can gradually reduce to one in the morning and one in the evening as your puppy ages. This routine should not vary. As your puppy approaches adulthood, they may begin leaving food in the bowl as their caloric needs begin to drop. Should this occur, feed your puppy smaller amounts to prevent overeating and maintain a healthy weight.
Daily Feeding Guide:
Adult Weight
2 Months (g/day)
4 Months (g/day)
6 Months (g/day)
9 – 12 Months (g/day)
1 - 5 kg
35 - 100 g
40 - 125 g
50 - 135 g
Adult
5 - 10 kg
100 - 160 g
125 - 210 g
135 - 225 g
Adult - 215 g
10 - 15 kg
160 - 215 g
210 - 285 g
225 - 310 g
215 - 300 g
15 - 20 kg
215 - 260 g
285 - 350 g
310 - 375 g
300 - 365 g
20 - 25 kg
260 - 300 g
350 - 410 g
375 - 450 g
365 - 435 g
25 kg+
We recommend Classic Large to Giant Breed Puppy
Highly active, pregnanat or lactating adult dogs::
| Adult Weight | G/Day |
| --- | --- |
| 1 - 5 kg | 40 - 135 g |
| 5 - 10 kg | 135 - 200 g |
| 10 - 15 kg | 200 - 275 g |
| 15 - 20 kg | 275 - 350 g |
| 20 - 25 kg | 350 - 425 g |