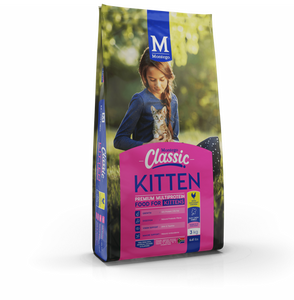 Montego CLASSIC All Breed Kitten Food - Chicken

A naturally balanced premium food with added essential vitamins and minerals for a complete meal. Classic Kitten's premium formulation is tailored to deliver, providing kittens with everything they need for continual physical develpment and well-being.  
Growth: Inclusive of 32% protein and 13% fat.  High-protein meal with essential amino acids and fatty acids, combined with proper exercise, helps your cat build lean muscles so your kitten can reach and maintain a healthy weight and muscle development. 
Vision Support: Both added and natural dietary Taurine, boosted by increasing Classic Kitten's meat-based proteins, supporting cardiac function and healthy vision. 
Digestion: Fructo-oligosaccharides - natural prebiotic fibres reinforce your kitten's intestinal health and reduce the risk of digestive upsets. 
Conditioning: Balanced Omega-6 and 3 fatty acids help to nourish skin - ensuring a shiny, soft coat. Added calcium helps build strong teeth and bones.
Cognitive Development: DHA is a crucial fatty acid that kittens would ordinarily get from their mother's milk which nourishes the brain.
Immune Support: Natural antioxidants, such as vitamin C & E, help surrport overall cellular health and assisst in developing a healthy immune system. 
 Free from soya, artificial colours and flavours
Ingredients:
Rice, chicken meal (natural source of Taurine), corn gluten*, deboned chicken, chicken liver, chicken fat, beet pulp, brewer's yeast, salmon oil, inulin, fish oil, salt, acidifiers, minerals and vitamins, encapsulated fatty acids and amino acids *May contain GMOs
Typical Analysis:

Crude protein 32%, Moisture 10%, Total Fat 13%, Crude fibre 3%, Crude ash 8%, Calcium 1.5%, Phosphorus 0,9%, Potassium 0.9%, Omega-6 fatty acids 2%, Omega-3 fatty acids 0.75%, DHA 0.2%, Glycaemic carbonhydrates 25%, Taurine 0.15%,L-Lysine 1.5%, DL Methionine 0.5%, Metabolisable energy 380 kcal/100g

Bag Sizes: 1kg, 3kg, 5kg, 25kg
Feeding Guide: 
| Age of Kitten (kg) | Grams/Day |
| --- | --- |
| 1 - 2 months | 30 - 50 g |
| 2 - 6 months | 50 - 60 g |
| 6 - 12 months | 60 - 70 g |
Optimal feeding amounts vary with age, size, activity levels, breed and environment. The above information is intended to be used as a guide. Please adjust as needed.
For Gestating and Lactating Queens: 
| Queen Weight | Grams/Day |
| --- | --- |
| 2 – 4 kg | 50 – 100 g |
| 4 – 6 kg | 100 – 150 g |