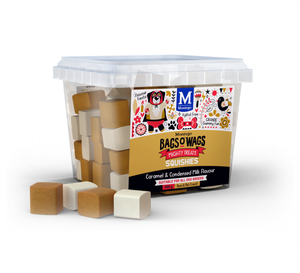 Montego Bags O' Wags Squishies - Caramel & Condensed Milk Flavour Dog Treats
The Bags O' Wags range of treats make on excellent reward for good behaviour. a tempting incentive when training or a between-meal snack that hits the spot. Ideal for daily use, Bags O' Wags treats make the perfect complement to every Montego Pet Nutrition dry or wet food diet.
Treat only, not a complete and balanced diet.
Ingredients: Corn starch, water, glycerine, wheat gluten, milk powder (lactose reduced), sugars, propylene glycol, gelatine, spray-dried animal plasma, chicken fat, sodium tripolyphosphate, carrageenan, fish oil, potassium chloride. Additives: SENSORY: White and caramel colour; palatability meat-based enhancers with condensed milk flavour. Preservatives: Potassium sorbate. 
Typical Analysis: Crude Protein 10%, Moisture 22%, Total Fat 3%, Crude fibre 0.5%, Sugar 11%, Metabolisable energy 310 kcal/100g
Size: Tubs 500g