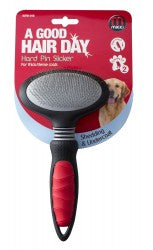 Mikki Hard Pin Slicker Brush for Thick Coats
The brush has specially shaped slicker pins which are mounted on an air cushion to enhance grooming action and reduce any excessive brushing force.   Designed with a curved back, ergonomic handle and flexi-head to ensure a natural grooming action.
Slickers are not suitable for corded coats - Komondor, Puli, Bergamesco Shepherd, Havanese, Poodle. 
Removes dead hair from undercoat and top coat
Helps brush out minor knots and tangles
The flexible head gives a more gentle experience for you and your pet
Available in small, large and x-large
Regular grooming will help give your pet a shiny, healthy looking coat.