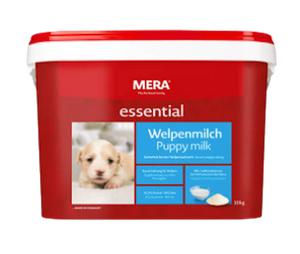 MERA Essential Puppy Milk 2kg 
Peace of Mind when Breeding Puppies!
The best possible milk for new-born puppies is milk from the female dog. MERA Essential Puppy Milk emulates this, providing pure milk protein of high biological value. (This means it is easily absorbed by the new-born puppy).
MERA Puppy Milk contains carefully prepared beef colostrum (first milk of mammals). This provides a highly effective package of ingredients which are necessary for activating the immune system. This unique natural composition is made up of immunoglobulins (antibodies), amino acids, minerals and many other natural nutrients.
Please follow the preparation and feeding instructions that accompany the product.
Note to Breeders: