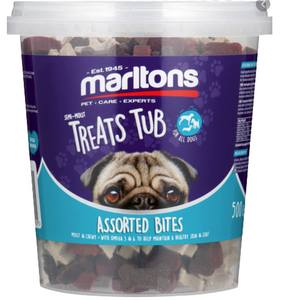 Marltons Assorted Bites: Tub of Dog Treats
Assorted semi-moist bites for all dogs.
Moist and Chewy
With Omega 3 & 6 to help maintain a healthy skin and coat
Conveniently packaged in tubs to keep them fresher for longer, our Semi-Moist Treat Tubs are suitable for all doggies – big, small, young or old! Choose from four delicious flavours: biltong, sausage rolls, assorted bites or peanut butter.
Pro tip: your dog sees treats as a sign of affection. So, it's important you dole out treats at the right time and for the right reasons or you may confuse your pooch and encourage bad habits. Our suggestion is to give treats to reward good behaviour, encourage bonding time (i.e. when you return home) or to help condition your dog to something new, like a trip to the vet.