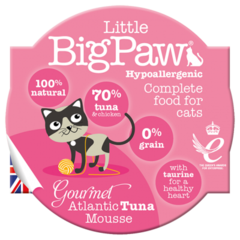 Little Big Paw Gourmet Atlantic Tuna Mousse 85g
No artificial preservatives or flavouring, no colourants, no grain, no wheat, no soya and no dairy.
Complete Wet Food
70% Meat, 100% Natural
Complete Wet Food
Hypoallergenic
Grain Free
Suitable for adult cats
Size: 85g
Packed with Proteins: Made with Atlantic tuna – highly nutritious, easily digestible.
Vital Vitamins & Minerals: Including A, D & E for a healthy immune system and strong bones and teeth
Omega Oils & Fats: Essential fatty acids for joint, healthy skin care and a superb shiny coat
Taurine: Essential for a good vision and a healthy heart
Composition: Tuna 26%, Chicken 24%, Chicken Liver 20%, Minerals, Salmon Oil 0.1%, Sunflower Oil 0.1%.
Analytical Constituents: Crude Protein 10.5%, Crude Fat 10%, Crude Fibre 0.5%, Crude Ash 3.5%, Moisture 75%.
Size: 85g
Feeding Guidelines:
4kg adult cat - 3 (83g) pots daily - given at two separate mealtimes.  Serve at room temperature.  Always have fresh water available.
Store: 
Use within 72 hours after opening. Keep unused food in a container with lid.  Store all unopened food in a cool dry place. 
Other available flavours:
Little Big Paw Gourmet Tender Chicken Mousse
Little Big Paw Gourmet Tender Duck Mousse 
Little Big Paw Atlantic Ocean Fish Mousse
Little Big Paw Atlantic Salmon Mousse
Little Big Paw Gourmet Tender Turkey Mousse