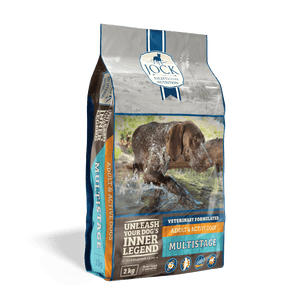 Jock Multistage Dog Food - 8kg, 20kg
JOCK Multistage is suitable for adult dogs and is also formulated for active dogs providing a complete balanced nutritional diet, specifically geared towards the daily health of dogs with a zest for life.  Packed with an ideal amount of fat and protein to helping them maintain strong muscles and optimal digestion.  JOCK Multistage is also enriched with essential omega 3 and 6 fatty acids to ensure a healthy skin and shiny coat.
Active dogs are happy dogs!   
Added Vitamin C, E and chelated selenium are natural antioxidants which help protect your pet's body against harmful free radicals. 
Chondroitin & Glucosamine
Chondroitin and glucosamine are both building blocks of cartilage and help to maintain healthy joints.
Amino acids are the building blocks of protein and ensure healthy muscle development.
Omega 3 & 6 are both polyunsaturated fatty acids which have been shown to promote the brilliance and sheen of the skin and coat.
Ingredients: Cereals (min 5% Rice); Meat & Animal Derivatives (Min 7% Poultry), Derivatives of Vegetable Origin, Vegetable Protein Extracts, Fats & Oils, Fish & Fish Derivatives, Vitamins & Minerals and Approved Antioxidants. 
May contain at least 5% GMO.
Available Bag Sizes: 8kg, 20kg