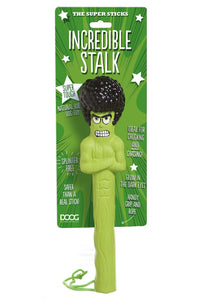 Doog Incredible Stalk Fetch Stick Dog Toy 
The DOOG SUPER STICKS are the super hero versions of the original Doog Stick Family.

SUPER Doog STICKS are made from durable natural rubber making them a much safer option for your pet to fetch than a real stick. They come with glow in the dark eyes and a handy grip for grappling. The rope ensures your SUPER STICK can be hung on a hook at the front door ready for his next adventure.

100% non toxic
This toy is not for heavy chewers, so please use for fetching only and do not leave your dog unsupervised.

Length 38cm
Other members of the Doog Stick Family: 
Mr Woody Doog Stick 36,5cm

Mrs Twiggy Doog Stick 35cm

Uncle Chuck Doog Stick 41,8cm

Mr Elwood Doog Stick 34cm

Ms Willow Doog Stick 34,5cm

Captain Fantastick Doog Stick 38cm

Baby Barkley Doog Stick 30 cm

Incredible Stalk Doog Stick 38cm