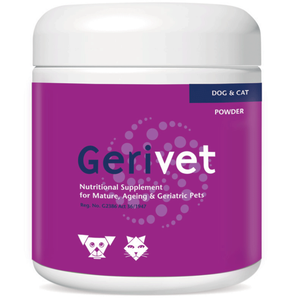 Gerivet Procaine/Vitamin-Based Supplement for Dogs and Cats 
What is Gerivet?
A procaine /vitamin-based powered nutritional supplement especially for animals experiencing the symptoms of old age 
It is intended for long-term administration to mature, aging and geriatric cats and dogs
Contains factors and micronutrients that improve general tone and condition, restore mental alertness and aid in the relief of age-related stiffness
Helps pets cope wit the distressing side-effects of the ageing process and helps to improve overall health
How does Gerivet work? 
As pets become older, their need for certain vitamins and other micronutrients increases. At the same time appetite decreases so their intake of these nutrients is lessened. Gerivet can make up for the deficiency of these micronutrients by providing high doses of the essential vitamins and nutrients required for intracellular nutrition, as well as supplying other factors, which have been shown to be beneficial on the ageing process.  
What are Gerivet ingredients?
Biotin - improves skin and coat condition
Choline - for liver function
MSM - helps to increase stamina, delays the onset of tiredness and alleviates symptoms of arthritis 
Procaine - improves mental function in the aged
Vitamin E + Selenium - together they enhance each other's action to protect cells against toxins
Zinc - at the dose found in Gerivet zinc helps to build up the immune system, which is of benefit to wound-healing and arthritis
Contains nutrients in an easily digestible form and perfectly complements any senior pet foods. Although formulated for geriatric pets Gerivet is a great "pick me up" for pets of any age and won't do any harm if given to younger dogs or cats
How do you use Gerivet?
Sprinkle over food in the following dosages:
Cats and dogs up to 9kg: 2.5g (half a medicine measure) daily
Dogs 10-30kg: 5hg (1 medicine measure) daily
Dogs 30-40kg: 7.5g (1.5 medicine measure) daily
Dogs over 40kg: 10g (2 medicine measures) daily
Composition:
COMPOSITION Each 5 grams of GERIVET contains: PROCAINE HCI 15 mg METHYLSULPHONYLMETHANE (MSM) 300 mg LECITHIN 300 mg alpha-TOCOPHEROL (vitamin E) 30 mg THIAMINE HCI (vitamin B1) 10 mg RIBOFLAVIN (vitamin B2) 3 mg PYRIDOXINE HCI (vitamin B6) 3 mg NICOTINAM
Pack size:  250g (powder)
Storage:  Store in a cool dry place