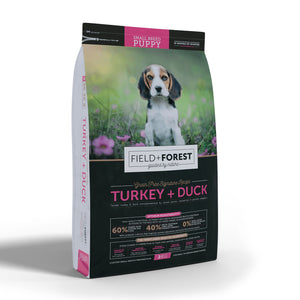 Montego FIELD+FOREST Turkey + Duck Small Breed Puppy Food 
Grain Free Signature Recipe with small, easy-to-chew kibbles for little mouths.  Protein from organs, meat, cartilage, eggs and oils, Field + Forest™ provides small to medium breed puppies everything they need for optimum growth and physical development during their crucial formative years. Field + Forest™ offers exceptional overall conditioning, well-being and immune system support, making it the best start you can give them.
60% Turkey, Duck Poultry, Egg & Oils
40% Fruits, Vegetables, Fibres, Herbs, Vitamins and Minerals
0% Grain, gluten, potato or poultry by-products
The finest Hand-Selected Ingredients steamed cooked to perfection in their own natural juices with no added water.  Guided by Nature™ - Rich in protein, low in carbonhydrates; Protein Centric Diet™ - Meat, organs and cartilage for Optimum Biosuitability™; Primary Ingredients - From tender turkey and duck; Smaller kibble size: Assists smaller mouths and teeth with digestion.  Rooibos Extract - Helps boost the immune system; Flaxseed & Fish Oils - for healthy vision and well-being. 
Ingredients: 
Turkey meal (17.5%), deboned poultry* (12%), poultry liver* (11%), whole green peas (10%), duck meal (5%), chicken fat, whole egg, cellulose, whole chickpeas, carrot slices (4%), grated butternut, hydrolyzed ostrich liver, sliced orange, shredded apples, flaxseed, fish oil, sugar beet pulp, inulin, salmon oil, cranberries, marine algae, encapsulated fatty acids, milk thistle, ground oregano, ground peppermint, ground rosemary, rooibos extract and bacillus subtilis as a probiotic.
Typical Analysis
Crude Protein 32%, Moisture 10%, Total Fat 17.5%, Crude Fibre 6.5%, Crude Ash 9.5%, Calcium 1.5%, Phosphorus 1%, Omega-6 fatty acids 4.5%, Omega-3 fatty acids 01.3%, EPA 0.4% DHA 0.3%, Bacillus subtilis PB6 2×10⁸ cfu/g 
Available Bag Sizes: 2kg, 7kg & 12kg
Feeding Guide: 
Feed puppies 3 times daily up to 6 months of age, thereafter twice daily until adults. Ensure fresh water is available for your puppy at all times.
| Expected Adult Weight | 2 to 4 months | 4 to 6 months | 6 to 12 months |
| --- | --- | --- | --- |
| 2 – 5kg | 35 – 100g | 50 – 115g | 30 – 90g |
| 5 – 10kg | 100 – 175g | 115 – 190g | 90 – 150g |
| 10 – 15kg | 175 – 225g | 190 – 250g | 150 – 200g |