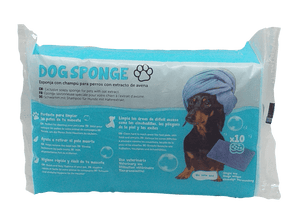 DOG SPONGE - 1 pkt of 10 sponges
This dog sponge cleans, nourishes, and efficiently removes dirt from hair, skin, and paws. Single-use sponges help prevent the buildup of impurities while reducing your dog's bath-time stress and anxiety. Just add some water, lather onto skin, and rinse. The sponge is infused with pH 7.0 oat extract shampoo, delivering a softening effect and leaving fur shiny and silky.
Brushing daily is not always enough.
To use: moisten (10-20cl) sponge a little, press it open and close your hand a few times to activate the soap and foam, rub gently over your dog, rinse, and discard the sponge. One package has 10 sponges.