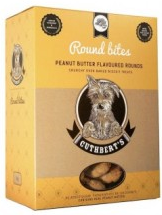 Cuthberts Peanut Butter Rounds Dog Biscuit Treats - 1kg 
Premium Crunchy Oven-Baked Biscuit Treats. Oven baking gives each biscuit the perfect texture to ensure a good gnawing action to promote healthy teeth and gums. 
Added vitamins & minerals
Healthy skin & coat
Healthy immune system
Healthy teeth & bones
Hard baked for clean teeth
No added sugar or colourants
Store in a cool dry place.