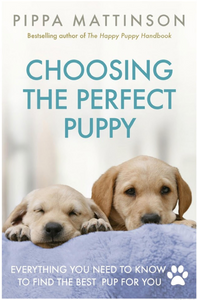 Choosing the Perfect Puppy Book: Everything You Need to Know to Find the Best Pup for You!
From the bestselling author of The Happy Puppy Handbook comes the definitive guide to choosing the perfect puppy for you.

Ready for an adorable puppy in your life? With over 200 breeds to choose from, picking your new life companion can be hard. But the dog of your dreams is out there, and Choosing the Perfect Puppy is here to help you find it. In this book you will discover:

How to compare pedigree with mixed breeds

At-a-glance information on the most popular dog breeds in the world
How to choose the best place to start searching
How to choose the right puppy from a litter

And many more tips to find the perfect pooch to complete your life!

Written by dog-training expert and puppy enthusiast Pippa Mattinson, this book tells you everything you need to know before you welcome a new puppy into your life.
Product details
Format Paperback | 224 pages
Dimensions 150 x 230 x 14mm | 520g
Publication date 27 Feb 2018
Publisher Ebury Publishing
Imprint Ebury Press
Publication City/Country London, United Kingdom
Language English
ISBN10 1785034375
ISBN13 9781785034374