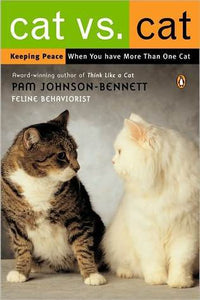 Cat vs. Cat : Keeping Peace When You Have More Than One Cat 
By Pam Johnson-Bennett
DESCRIPTION
Pam Johnson-Bennett, the award-winning author and feline behaviourist, shows how adding another cat to your home does not have to be the start of a kitty apocalypse.
Cats are often misunderstood as natural loners, Johnson-Bennett shows how to plan, set up, and maintain a home environment that will help multiple cats -and their owners- live in peace.
Cat vs. Cat will help readers understand the importance of territory, the specialized communication cats use to establish relationships and hierarchies, and how to interpret the so-called "bad behavior" that leads so many owners to needless frustration.
Offers a wealth of information on how to diffuse tension, prevent squabbles and ambushes, blend two families, or help the elder kitty in your family, Cat vs. Cat is a welcome resource for both seasoned and prospective guardians of cat families large and small.
Product Details
Dimensions 135 x 203 x 15mm | 191g
Publication date 06 Jul 2004
Publisher Penguin Books Ltd 
Publication City/Country New York, NY, United Kingdom
Language English
ISBN10 0142004758
ISBN13 9780142004753