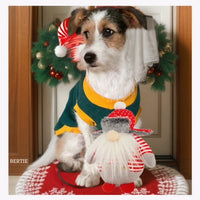 Christmas Toys Selling Out Fast!
Unwrap joy for your furkids this Christmas 2023. See below to explore some of our favourite selection of quality Christmas dog toys, designed to make this holiday season unforgettable.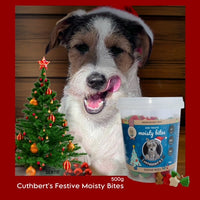 Cuthbert's Moisty Festive Bites Dog Treats - 500g tub
Cuthbert's Moisty Festive Bites are the perfect treats for both big and small dogs! The chewy texture helps to maintain good oral health by reducing tartar and plaque buildup.  Plus, they're ideal for training, so you can reward your pup with the best! Size: 500g tub
BUY HERE R80 for 500g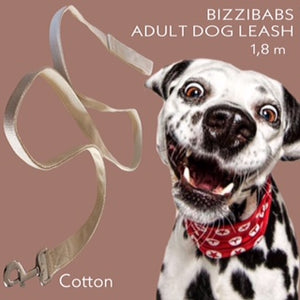 With Payflex
You can now buy all the essentials for your furkid and pay for them over a period of 6 weeks, with no added interest. Click Payflex at checkout.
FAT CAT: Pet Toys to "Make People and Their Pets Laugh"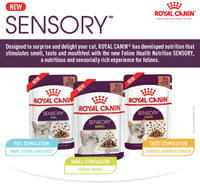 ROYAL CANIN SENSORY POUCHES NOW AVAILABLE IN A VARIETY BOX
x4 Sensory Feel, x4 Sensory Smell, x4 Sensory Taste
Each pouch 85g
A nutritious and sensorially rich experience for felines!
BUY HERE: R280 Box of 12 Pouches
LAUNCHING 21 NOVEMBER 2023: ROGZ KAROO FLAT ROUND BED
Looking for a beautiful pet bed to spoil your dog this Christmas?
Available from 21 November 2023 the Karoo Range will be in two different styles of beds that are perfect for your furry bestie! These beds are made from high-quality vegan leather, giving them a luxurious touch without breaking the bank. They feature a non-skid base and are filled with recycled materials. Plus, they are machine washable for your convenience.
Dimensions for Flat Bed (LxWxH) Large 107x72x8cm (Weight of Dog 21-40kg) & X-Large (Weight of Dog 39-64kg) 129x 86x10cm
Dimensions for Round Bed (WxH) Medium 65x17cm (Weight of Dog 12-22kg) & Large (Weight 21-40kg) 80x23cm
Priced from R840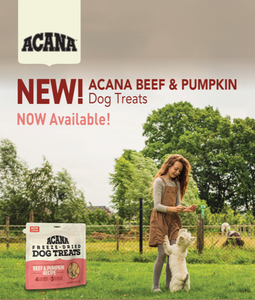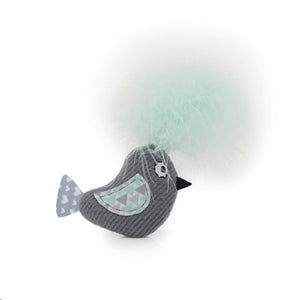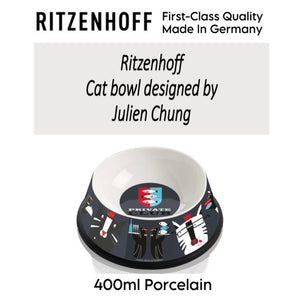 ALESSI PET COLLECTION: ALESSI the home of quality Italian design products for 100 years
Why Farmina? "Farmina is nature and science in perfect harmony"
* Introducing dogs and cats and other pets
When bringing a new puppy or dog into a home with existing pets, it is important to respect the needs of both animals in order to achieve a successful coexistence. Dogs tend to observe strict hierarchies in their relationships, so when your new pet meets other animals in the household, they need to establish their own roles and hierarchy in order to live harmoniously. When it comes to making introductions, it is important to respect the needs of the existing animal(s) as well as the new dog, in order to maintain the peace and work towards successful coexistence.
Working out if your pets are compatible 
Before bringing a puppy home, talk to the breeder or shelter staff about the measures that have been taken to socialise the puppy. Find out how the puppy is around other dogs and if they have had any exposure to cats if you have them at home.
Before bringing your puppy home, you may choose to give it a blanket or toy from your house so they can get used to the scent of your existing pets and vice versa before introducing them.
If you are rescuing a dog, it is important to discuss any existing pets with shelter staff before making the decision to bring them home, in order to understand whether the dog has any obvious issues with other animals.
Remember to introduce them gradually and don't expect them to accept one another instantly. It will take time for existing pets to accept the new member of the family, and for the new arrival it is also a big adjustment.
Introducing your new puppy to existing dogs
When your puppy first arrives home, bring them into a small, calm, safe area of the house without other pets, to gradually become familiar with their new surroundings.
When introducing a new dog or puppy to any existing pets, a responsible adult should always be there to supervise.
Introduce them in neutral territory: Start by introducing your dogs outside the home in a neutral area. Make sure both dogs are on a lead and that you can control them both. Let them sniff and investigate each other.
Be patient: Do not shout at the older dog if it doesn't react the way you want it to. Give it plenty of time to get used to the new dog.
Keep them on the lead: Once they seem to be getting along, then still with leads on, walk side by side back to your home and have them enter the house together. Leave their leads on in case you need to grab one quickly – it is much easier to grab a lead and control the dog than to grab the dog, especially if a fight breaks out. Wait until you're comfortable: Once you feel certain that everything is fine between the dogs, you can remove the leads while in the house.
Top tips for peaceful coexistence
Pay extra attention to female dogs: Regardless of what people think, it is found that female dogs are more involved in aggressions than males and their fights are more difficult to resolve.
Let them establish their hierarchy: Allow them to establish their own dynamic and give priority to the dominant dog. Dogs have a pack mentality and need to have a clearly-defined position within a group.
Pay careful attention at meal times: Dog fights generally occur at meal times as there is an element of rivalry between them. At such times, give priority to the dominant or aggressive dog. You may even want to consider separating their eating areas.
Introducing new pets to existing ones takes time, and it is not a relationship that is always immediately easy. However, by asking about your new dog's temperament and experiences before bringing them home, and by respecting the needs of both your new dog and existing pets, you can gradually understand how they will interact with each other and work towards a successful and peaceful relationship.
*Credit: https://www.royalcanin.com/za/dogs/thinking-of-getting-a-dog/introducing-dogs-to-cats-and-other-pets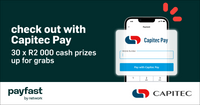 🌟 Win BIG with Capitec Pay and Payfast! 🌟
Between 7 November and 31 December 2023, you could be one of 30 lucky winners to score a fantastic R2,000 cashback prize directly into your Capitec Live Better savings account!
Entering is a breeze – simply select Capitec Pay at checkout when shopping on any website that uses Payfast, and you'll be automatically entered into the competition.
Start shopping with Capitec Pay and Payfast now and #WinWithCapitec
Terms and conditions apply. Visit https://payfast.io/capitec-pay-competition/  for more details. Good luck!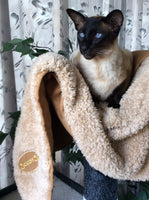 Who is Bizzy, Cat-In-Charge of Bizzibabs Scratch Patch?
Bizzy joined our family as a sighted kitten. Around his 2nd birthday we had a feeling something was not right with Bizzy when he began to bump into furniture etc. A visit to an eye-specialist confirmed our fears - he was totally blind! The diagnosis was PRA (Progressive Retinal Atrophy), a genetic condition which is not uncommon in dogs, but also in oriental breeds of cats. Google did not yield much information about PRA at that time, so we started an Instagram Account, @bizzibabs_pra_awareness, for Bizzy. "Bizzibabs" is derived from : Bizzi(Bizzy)-b(boy)-a(a) -b(blind) -s(siamese).
Bizzy quickly made friends from all over the world and some of them would send him gifts so that he would show off what he received on Instragram.
When we started our online store, we appointed Bizzy as "The Boss," so that he could share his own favourite things on Instagram and in his own online store. This is Bizzy and he and his purrents are very pleased to meet you!
Bizzibabs Scratch Patch Reviews from happy customers
It makes such a difference when you purchase from people who genuinely care. I had such a wonderful experience from start to finish at Bizzibabs. The online order process was quick and easy. Their pricing is good and the brands they offer are too. The most important part of my purchase was the actual service. So much thought and warmth went into my order and I can't tell you how much I appreciate it. As if that was not enough they added a little pressie for my floof to try. Please support Bizzibabs, they may be a small business but they have a huge heart!

TG, Observatory
Bizzibabs Scratch Patch was so helpful when I contacted them via WhatsApp, took the time to engage and asked me the name of the my dog and age etc. Super impressed with the friendly, great service, products all well priced too. Will definitely use their service again, simple and efficient and they have everything your furbabies could need.

Tracy, Lakeside
Easy to navigate and shop.

I love the products especially chosen for their dietary quality. Pricing is excellent.
Bizzibabs offers good service with knowledge and a smile.
Supporting small entrepreneurs is the way forward.

Sue, Constantia
"Thank you so much for delivering my order so promptly. Your prompt and efficient service is greatly appreciated.

CL, Constantia
The order for the 'Dangle Bug For Night Time Play' for my cat went through seamlessly. Well done and thank you Bizzibabs Scratch Patch!

Janet, Constantia
I had great service and help from Bizzibabs Scratch Patch. I can highly recommend them if you're looking for anything pet related.

TWB, Plumstead
"I will definitely be ordering next time from you as the service was so good. Much appreciated!"

Romy, Bergvliet